You only need three things to have an awesome time in Kuala Lumpur: 48 hours, £30 (35 euro/38 USD) and this post.
Don't let the fact that Kuala Lumpur is jumping up the list of the world's most expensive cities at record speeds put you off enjoying all this amazing city has to offer.
I show you the best things to do in Kuala Lumpur – on a shoestring – in one of my favourite Asian cities.
Is Kuala Lumpur really that awesome?
Yes.
Is it really that expensive?
Also yes.
After travelling around many South East Asian cities and living in Thailand I was shocked by how much more things cost in Kuala Lumpur.
But it would be amiss of me to say that made it worth rubbing off your bucket list.
I loved it!
It is an electric city with so much culture it almost seems greedy for one city to have so much, which is partly due to the hot pot of three cultures and cuisines in one place: Malay, Indian and Chinese. It mesmerized me.
Tourism Malaysia, the country's tourism body, have said that on average each tourist to Kuala Lumpur spends on average approximately £460.
And seeing that also on average most trips to this top capital are long weekends, that would average over £200 a day!
*gulp*
Compare this to the chances that you are travelling to South East Asia because you like the idea of your money going that bit further than in Europe or the US.
Hotels and tour guides will try to sell you their expensive day tours but you really don't need these to see the sights, with the bonus that if you do it yourself you save money and can go at your own pace.
Of course there are very high end and luxurious places to eat, drink, shop and party if you want. But equally, if you know where to go and what to look for, there is no reason why you should miss out on all this bustling cosmopolitan city has to offer because you are on a budget.
The rules of my game
You bring:

£30 (equivalent to 35 euro/38 USD)
your camera,
a comfy pair of shoes,
a top covering your shoulders and a skirt/shorts covering your knees (women will also want to refrain from showing too much cleavage),
a map (many hotels/attractions have free ones on their stands in their lobbies),
a bottle of water (or few – it does get damn humid in KL), and
your sense of exploration.

This is all the spending money you will need for the two days, including all activities, travel and food. It does not include accommodation and flights which I presume you have booked before you arrive, or souvenirs and alcoholic drinks which are optional.
I guarantee you all the fun of Kuala Lumpur for a fraction of the price.
Are you game?
Good!
Now one last thing before we start, here are some Malay customs/etiquette you should follow when you are exploring this great city.
Malay Customs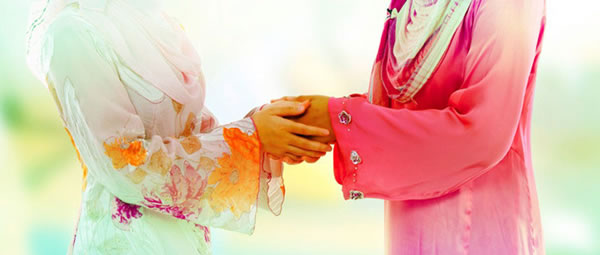 Before entering any Malay building (including mosques, people's houses etc) it is custom to remove your footwear and leave it at the entrance to the house.
"Salam" is their word for hello. If you want to greet someone in the real Malay way then you can place both your hands around the other persons (a bit like a double handed handshake but no shaking is involved, as shown in this photo) and then lifting your hands to your chest. This greeting shows respect and sincerity.
KL is a muslim country so it is respectful to dress modestly at all times, especially when visiting religious sights such as mosques. Hence my suggestion to cover your knees and shoulders before sightseeing. Women will be required to wear a head veil when visiting a mosque – mosques are also closed during prayer time.
It is considered rude to eat with your left hand; they use their right hand to bring food to their mouth. It is also rude to point at something, especially someone, with your index finger as we do in western culture; instead Malays use their thumb of their right hand. Locals understand that tourists may not mean anything by using their left hands or fingers to point but it is a mark of respect and understanding for their culture if you can remember to use your right hand and thumb.
Right, now we are ready to start.
My List Of Things To Do In Kuala Lumpur On A Budget
Day 1:
Morning – KLCC Park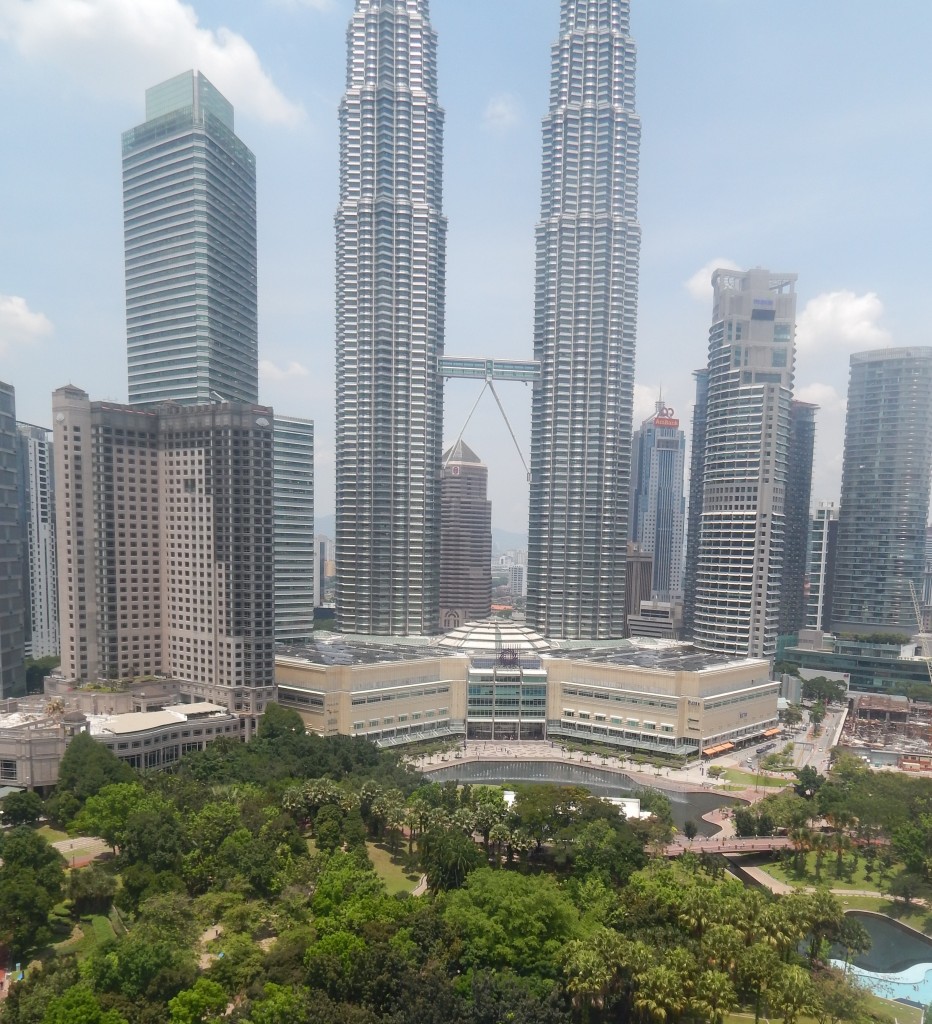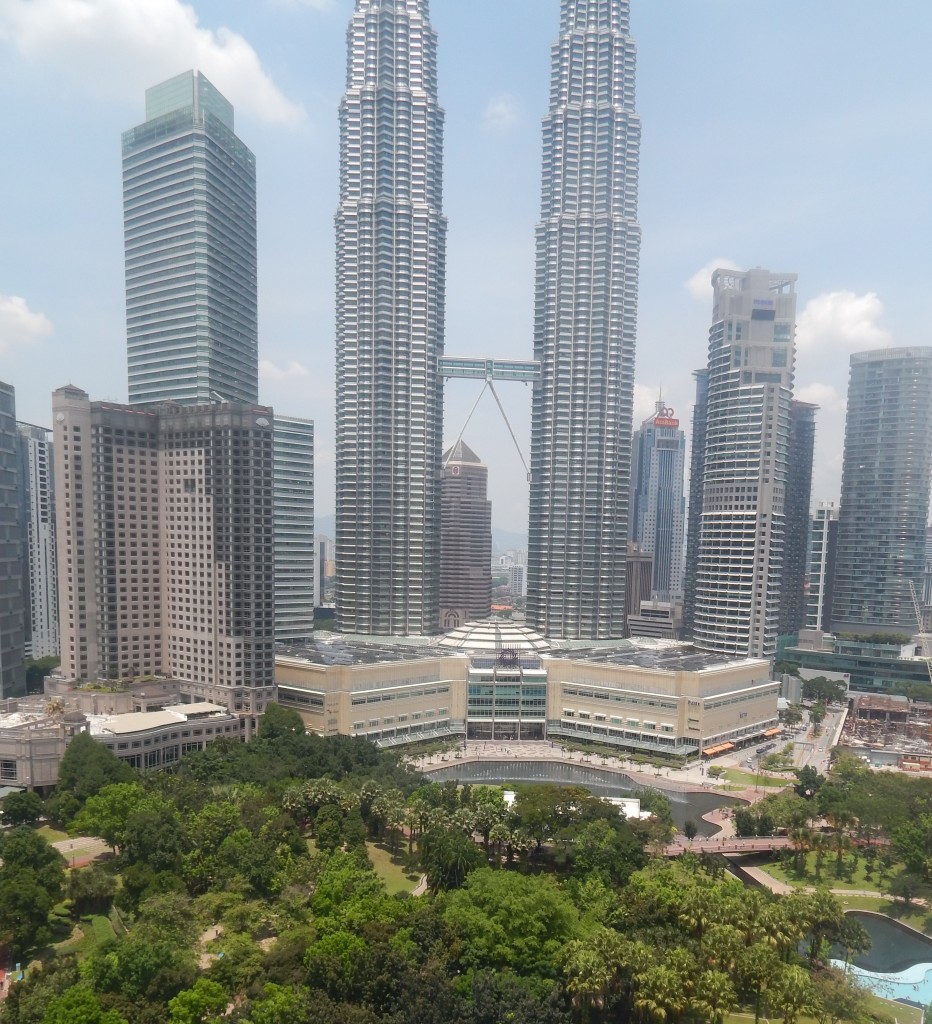 Head over to KLCC park (exit at KLCC station and walk through the Suria KLCC shopping mall following the exit signs for the park) and and on your way there grab a traditional Malay pastry called a 'roti boi milo' pastry.
The sweet pastry surrounds an oozing middle, and I became seriously addicted to these during my stay in Kuala Lumpur.
If you didn't manage to grab a pastry on your way, there is a small outside cafe on the edges of the park's track which is part of the Traders Hotel. This is an expensive hotel but even their traditional pastries are only a few ringgit and they change the flavour of the middle filling daily, so if you enjoy it here that much you can come back everyday and still try something new.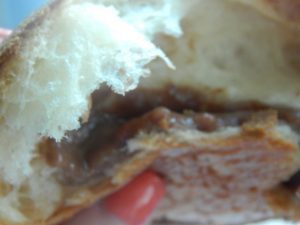 You can either stroll or jog around KLCC park.
This park is Kuala Lumpur's equivalent to Central Park. Amidst the hustle and bustle of a busy city, it is an oasis of tranquility.
It's a no car zone and has a jogging track looping around the edge of the park (you can see it in red in the photo above).
The track is only 1.3km long which makes it a perfect morning stroll and if you stick to the track you will avoid the worry of getting lost and catch all the best bits the park has to offer, including a bridge across the park which offers amazing views of the Petronas twin towers; from the ground it really gives you a sense of the sheer size of these towers.
The shade of the trees and the moisture from the park's lake gives you some welcome respite from the intense humidity on the streets, even in the morning.
There is also a playground for children so they can let off some of their early morning energy whilst you munch on your delicious pastry.
Lunchtime – Kampung Baru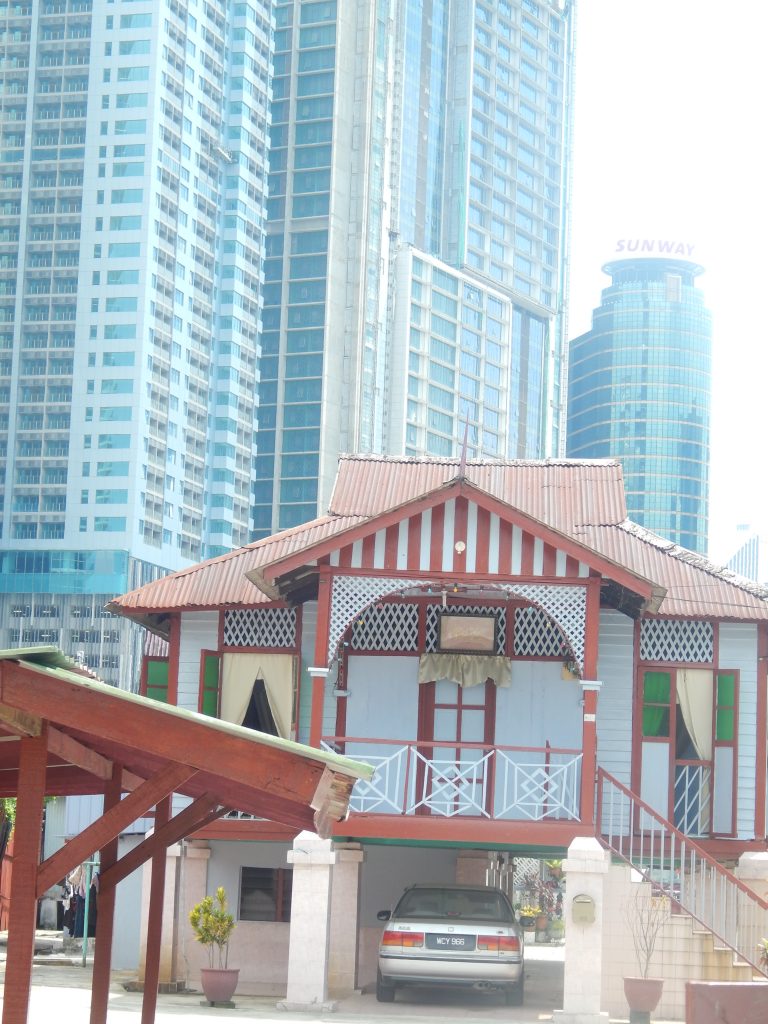 Kampung Baru is an old Malay village only a few stops from the centre of Kuala Lumpur (exit at Kampung Baru station).
In fact it is the juxtapositioning of the old Malay buildings here, against the harshness of the new city skyscrapers sitting behind them, that make this village such an interesting place to walk around.
It may only be a few stops from the centre of the city but it feels hundreds of miles away from its newness, and is a perfect way to experience the traditional Malaysia without having to venture very far at all.
What I liked most about this place was that it wasn't a theatrical recreation of a traditional village for tourists, but a genuine local neighbourhood (first built in 1900) which you will see is still a rather basic and humble area to live.
The area has such a rich culture – and place in Malaysia's colonial history – that there are free walking tours that take place there every Tuesday, Thursday and Sunday which run for just over two hours.
For more information and to book click here.
If you prefer you can ditch the organised tour and take yourself around the area at your own pace.
Although you may learn less interesting locally known facts about the area on your own, I always find there is something liberating about exploring a new area by just walking around and seeing where I end up.
The area is all well-signed (with roads named after great Malay leaders) so as long as you pay attention to the street signs there is little risk of you getting lost and I felt perfectly safe walking around there on my own in the daytime.
On your way from or back to Kampung Baru station, you will find it impossible to miss a road full of local eateries; the Malay government have made sure there are no commercial chains here to ruin the local food market.
These places are all very basic but don't let that put you off. My number 1 rule in SE Asia is that the most basic street food places are not only the cheapest but offer the tastiest food by far – as long as you are sensible about hygiene.
Find one that you are comfortable enough to stop at, greet them with a "Salam", pull up a plastic chair, and enjoy traditional Malay dishes cooked – and priced – as it should be.
I had the best Nasi Biryani/Briyani I ate in my whole trip at one of the food stalls down this road and below is a photo of it to wet your appetite.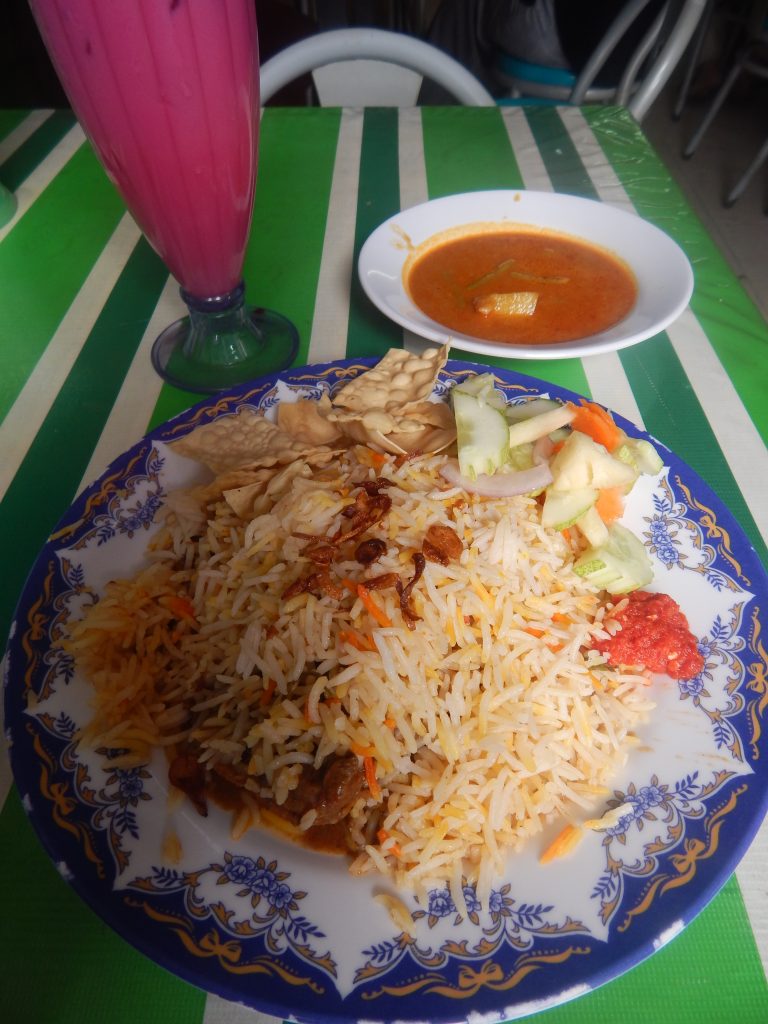 Oh and the pink drink – simply 'enak' is out of this world, I think I ordered about five.
On Sunday nights, this street becomes even more buzzing and full of places to eat as it turns into a night market where locals will tell you they sell the best Malay desserts in the whole of Kuala Lumpur.
This makes another free and worthwhile evening activity if you have time.
They also hold a yearly Ramadan street bazaar during the month of Ramadan between 4-8pm serving a wide choice of street food, with Bubur Lambuk (Malay rice porridge) being the local speciality.
Afternoon – Kuala Lumpur Central Market
Head to Pasar Seni station to visit this inside market which was built in 1880.
It is a welcome rest from the heat of the city during the day and a great experience with shops selling everything from food to homemade souvenirs, to traditional fabrics, and you can even try your hand at batik painting.
The market has changed a great deal since it was first built, with stalls being replaced by small shops now and prices tending to be fixed towards tourists, yet still reasonable compared to other places in the city.
Just around the corner from the market is China Town so if you didn't fancy the food at Kampung Baru – or just want to make the most of KL and continue eating (that was my motto!) – then you can grab some food in China Town instead.
Evening – Kuala Lumpur street food tour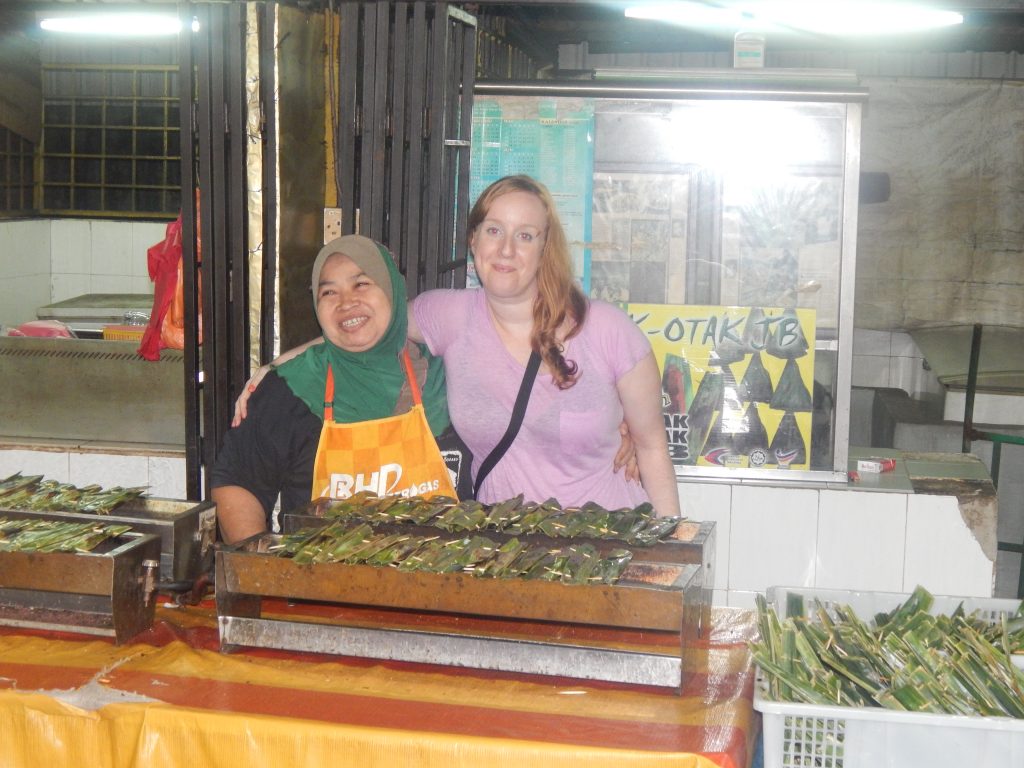 I'll let you in to one of my top travelling tips, street food tours.
Not only do they let you sample a variety of local cuisine, they open your eyes to new areas and the best places to eat that usually only locals know about.
Very often there is no English on the menus, or spoken, at these eateries as they are not in tourist areas so having a local guide is super useful – or you might end up ordering something rather *unusual*.
True story I did this in a local eatery in Cambodia and ended up with eel curry yuck.
Not only can a street food tour recommend the best dishes to try and order for you, but they also can teach you about the culture and food of the area and as the guides are locals the price you pay for food don't get bumped when the stall owner sees you are a tourist.
The best time to do a food tour is at the start of a trip so that you learn the places you want to go back to eat at, the dishes you liked best, and I always get them to teach me a few key words of the local language that I can use when ordering on my own.
These tours always stay away from the expensive or chain restaurants so you do need to have a sense of moderate adventure to be happy to eat street food – but they have tried the eateries they take you to time and time again so they know they are very unlikely to give you food poisoning or it wouldn't be good for business!
There are more and more food tours sprouting up in Kuala Lumpur all the time, costs vary greatly depending on the type of tour you do and prices always include all food and transport around the different areas (you buy your own drinks).
I love street food tours because they let me try as many dishes and different places to eat all in one night than I would normally be able to fit in a whole week and I rarely visit an Asian city without taking part in one.
We ate mouth watering Chinese, Indian and Malay food all in one night.
However, if you don't manage to fit one in during your trip in KL, still be sure not to leave the city without trying satay and nasi lemak (pictures above). My favourite Malay food.
Day 2:
Morning – Jamel Mosque and Merdeka Square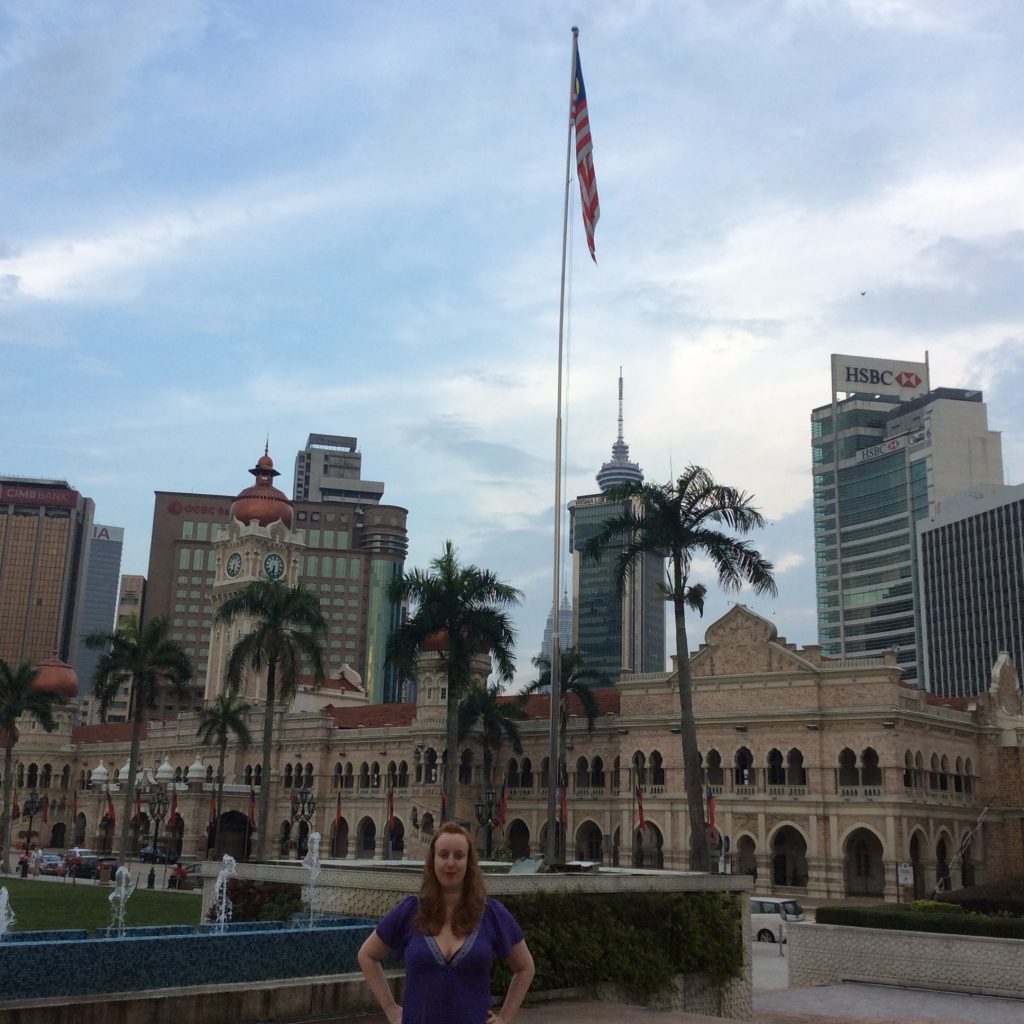 I have actually devoted the morning to more than just these two sights, so you will need to walk fast, but this is another do-it-yourself walking tour around the outskirts of KL city centre to save money. This time between Dataran Merdeka and Masid Jamek.
Jump off the metro at Masid Jamek and your first sight is the Jamel mosque, a huge beautiful white building that you won't be able to miss when you exit the station.
This is one of the oldest mosques in the whole of Malaysia and the oldest in Kuala Lumpur. It is open (and free) for tourists to visit and walk around. Just be mindful of prayer times as you cannot enter then; the first time I went there it was during prayer so I had to leave and return another time.
Also all the rules on conservative dress we discussed further up this page especially apply here as it is a place of worship so you will not be allowed to enter unless you are sufficiently covered up.
The ancient architecture of this building is well worth a visit alone, let alone to experience the serenity of the mosque and its people.
After the mosque, there is a short walk to Merdeka Square with many sights to see around the square.
Just before you get to the square, I suggest you stop at Sultan Abdul Samad Building, National Textile Building, Kuala Lumpur City Gallery, Railway Station, and Administrative Building, on your way to your final stop of Merdeka Square.
All of these buildings are around the edge of/within a stone's throw to Merdeka Square and whilst the National Textile Building and City Gallery are the only two buildings out of the four that you can actually go inside, the other two still offer plenty of historic architecture to take photos around.
From the mosque to Merdeka Square including stops at the other four buildings, I spent a good few hours exploring – but you could spend as much, or as little, time as you like in this area.
Lunchtime – Suria Sabah shopping mall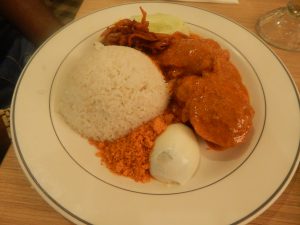 I have mentioned this shopping mall (near KLCC park) several times in this post as it really is a focal point for lots of the cheap things to do in Kuala Lumpur. Of course there are many shopping malls within KL city centre and any will do to grab your lunch at. I just used to visit Suria mall a lot to eat as it was close to where I stayed. All malls have some cheap eateries, which offer local canteen style food but are a bit more 'safe' than street food if you don't have the stomach for that.
I found a TGI Friday's in the mall, which after months living in Asia was a nice treat to have some BBQ ribs! But if you are in KL for a holiday personally I always want to make the most of the local cuisine. These cheaper eateries are often a seperate place (a top or basement floor) from the more expensive chain places so have a wander around.
Afternoon – Batu caves
If you've done a bit of goggling already, or checked out Trip Adviser for things to do in Kuala Lumpur, you will have likely come across mention of the Batu caves which is the largest Hindu shrine outside of India.
However although it is a very popular tourist attraction, it is still very much worth a visit. Minus your metro fare to get there it is free to enter.
The nearest station is called – unsurprisingly – Batu caves. Once you jump off the train, the entrance to the caves are right outside but there is one thing between you and the caves: monkeys.
There are tons and tons of monkeys free-roaming around the area. These are as much an attraction as the caves themselves.
I found them fascinating, and spent a good half hour just watching them play and make mischief. The photos below are of a monkey who was thirsty and wanted a drink so he spent ages figuring out how to open a drink bottle which someone had left in the trash – and you know what he did it, amazing!
However, if you have young children you will want to hold them tight as these monkeys are so used to people that they are not frightened to get very close to you, which could be dangerous if they decided to bite. I didn't hear of them biting anyone when we were there but you can never be too careful. Otherwise the children will be fascinated by these cheeky monkeys larking around.
Once you have had your fill of monkey madness, you will reach the entrance to the caves.
At the top of this post I told women to wear something long enough to cover their knees and shoulders, because if you don't then in order to enter the caves you will have to rent out some light clothing from them to cover up.
Then you will need to begin the steep ascent up to the top of the 272 steps (this would not be suitable for young children, those with mobility issues, or a real fear of heights, but for everyone else it is worth the climb).
I must admit when you stand at the bottom it looks rather daunting and it would be something out of 'Ninja Warrior' to have to run up them all.
The huge famous landmark golden statute of Lord Murugan stands at the top overshadowing the steps which cost around 24 million rupees to make. You can also expect a monkey or two to join you for the journey up. By the way going up is a lot easier than going down suprisingly!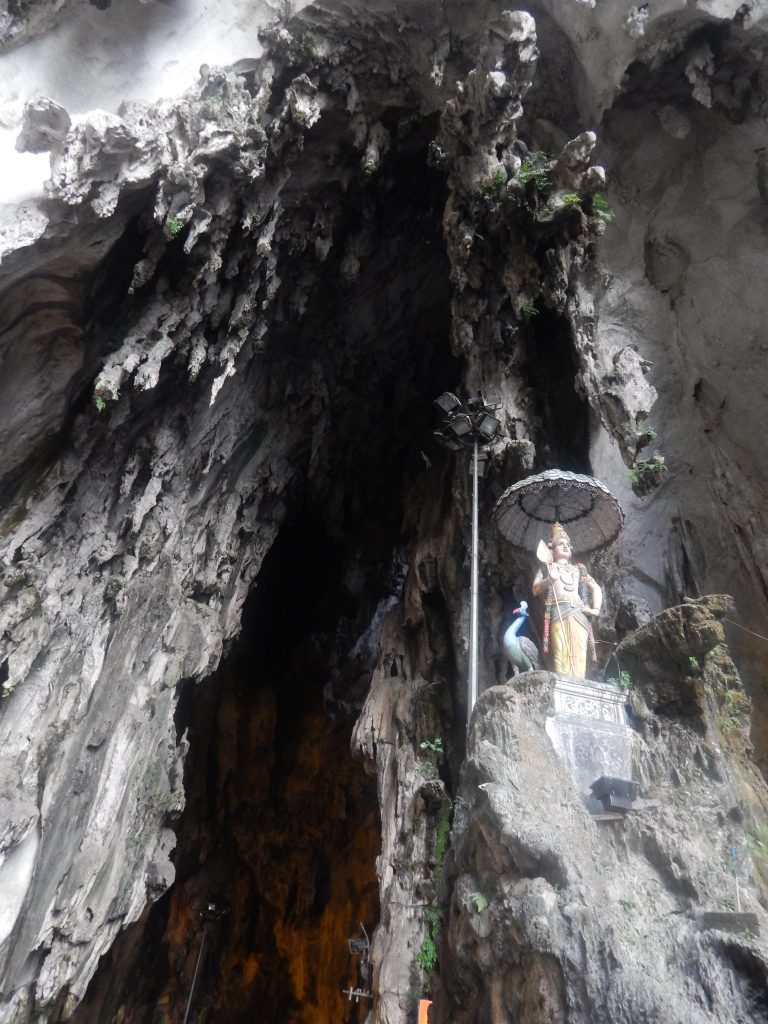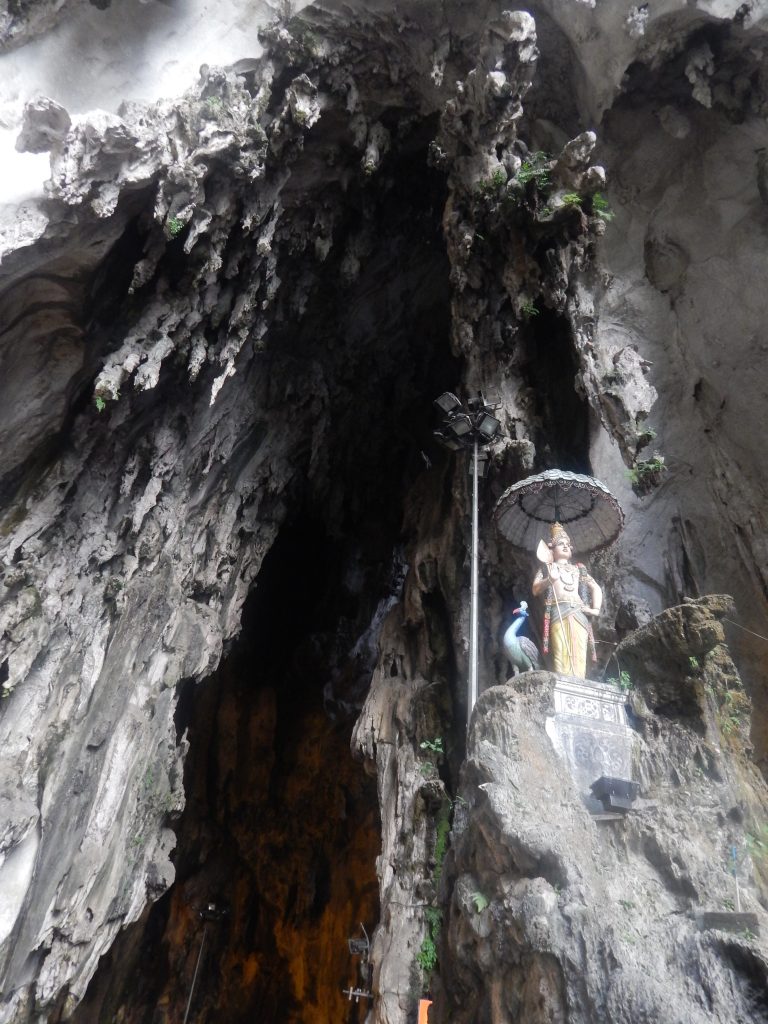 Inside the caves are foreboding and freezing (another reason why covering up is helpful!). They are lit inside and when I was there some birds (including chickens!) were running around inside. There are actually more than one set of caves in the Batu caves site however, this main one (the Temple cave leading to the upper cave) is the most popular and the only one we saw.
If you wanted to make a day of it then you could also visit the other caves there but some of these charge entry fees.
Evening – Petronas Twin Towers and lake symphony light show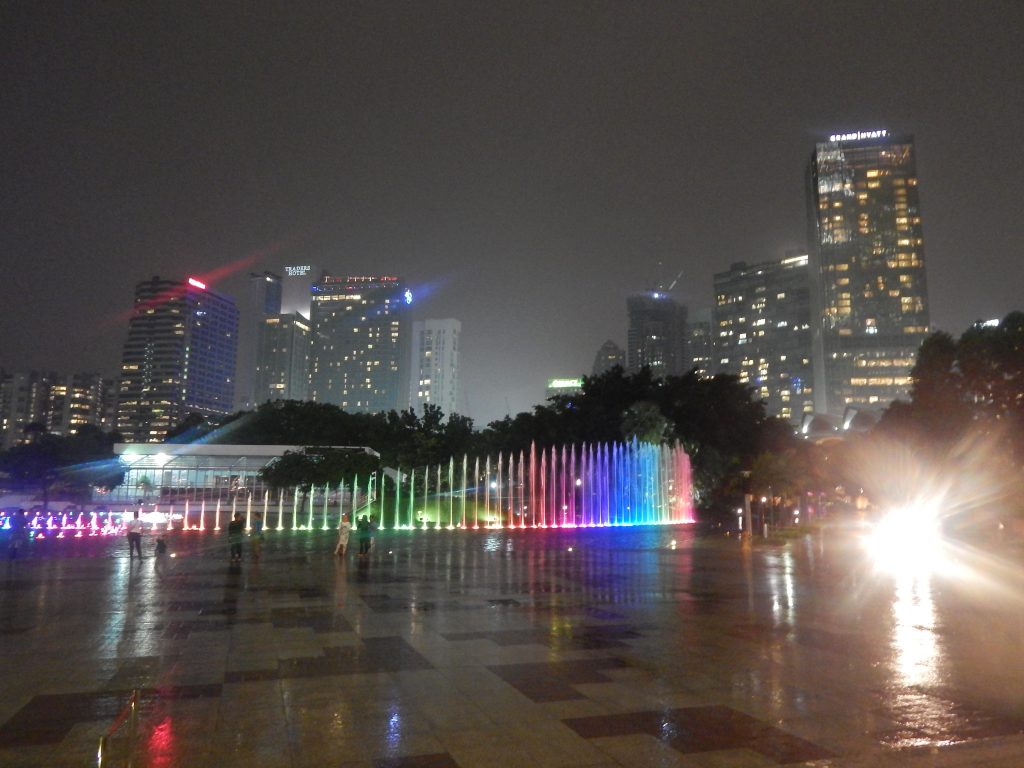 Once you have headed back to the city centre, you can grab some dinner at the many street food places dotted around the city which you will probably pass on your way to the hotel.
After you have rested your feet for a while and freshened up I suggest you head over to KLCC/Suria Sabah shopping mall again, exit the mall as if you were going to KLCC park but head to the lake to view the lake symphony light show.
This is where the fountains of the lake 'dance' to music and turn different colours thanks to clever lighting. People line the steps of the mall entrance every evening to view this beautiful and free show.
It lasts about 5 minutes and often runs three times a night, approximately 8pm, 9pm and 10pm (although this is not always precise).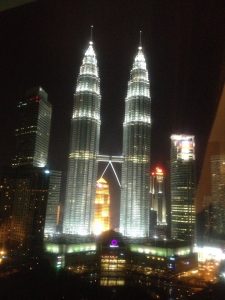 After you have seen the show, if you still have some energy and are not ready to go to bed just yet then head over to the Traders Hotel (where yesterday's cafe was situated beneath) and get the lift up to the top floor's Sky Bar.
This is open to non-guests but it is a rather posh hotel – and bar – so make sure you are dressed appropriately or you will be refused entry.
Drinks in the bar are – as you would expect – pricey, but just stick to a soft drink if you are on a tight budget as it is the view – not the drinks – that you have come for.
The Sky Bar is surrounded by glass windows which offer an amazing view of the Petronas Twin Towers, especially lit up at night.
A ticket to view the towers from the formal observation deck costs about £20 so save yourself this cost and view it for free from this bar.
I did both, and enjoyed the view from the Sky Bar better to be honest.
And that's it – 48 hours of things to do in KL on a budget. If you follow my guide you may well be exhausted, definitely well-fed and culturally enriched, but not broke at the end of an amazing 48 hours.
Have you been to KL, if so please share with other readers what you thought were the most worthwhile things to do? Do you know of any other free and worthwhile activities to do in this great city? Drop us a comment.